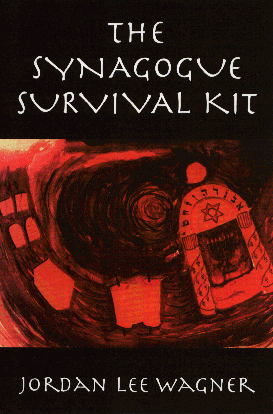 (click the image for ordering info)
Sybil Kaplan, reviewer
The National Jewish Post & Opinion
Indianapolis, Indiana, July 30, 1997:
"Do you know a Jew by choice or potential Jew by choice? A Jew by birth, now an adult, rediscovering his or her tradition? A Russian Jew deprived of his or her heritage? Others who may not have learned about prayer as children? If you can answer yes to any of these questions, buy this book and give it as a gift because it will undoubtedly be treasured."
Publisher's Weekly, February 10, 1997:
"Wagner provides a simple, detailed and thorough road map for navigating the service and understanding its structure and content... his informal, encouraging tone make this an engaging, reader-friendly introduction."
Sheila Weinstock, Librarian
Temple Bnai Israel,
Clearwater, Florida:
"I have just finished reading the book and even though I have been an active synagogue attendee, I truly feel that I learned a lot. We do have many congregants who ask for information about the very items that this book addresses."
Rabbi Daniel M. Wolpe
B'nai Torah Congregation,
Boca Raton, Florida:
"I have just finished reading your book, The Synagogue Survival Kit, and must tell you that I think it is exceptional. In fact, I intend to use it in my Introduction to Judaism course next year. I am particularly impressed with your ability to explain the different movements in a way which is encompassing and non-judgemental. Your book may well be one of the most important Jewish books written for the American layman and I thank you for writing it."
placeholder
Click the portrait to read
about the author.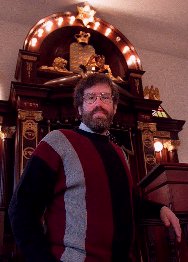 j
Send comments, regarding the book or this web page, to:
jordan@webjew.org
Published by
Rowman & Littlefield
Listen while you surf!

Click here to hear a half-hour Voice of Israel radio program, originally broadcast 6/29/97, in which host Danny Tadmore interviews Jordan Lee Wagner, the author of The Synagogue Survival Kit.

The Synagogue Survival Kit
In an effort to counter the confusion and isolation often experienced by a novice synagogue-goer, as well as by many who regularly attend synagogue, The Synagogue Survival Kit offers introductions and instructions for all aspects of the synagogue experience. Always mindful of the sophisticated adult reader with little or no Jewish background, Jordan Wagner clearly and comprehensively explains, in a non-dogmatic way, the practices, vocabulary, objects, and attitudes that one can expect to find in any synagogue.
The author originally set out to write an "orientation letter" for a non-Jewish friend interested in attending a synagogue service. The letter developed into a lengthy document, was later circulated among interested members of his congregation, and eventually gained a reputation, which prompted him to expand the original "letter" to its current form. Wagner hopes the book will inform the wide variety of people who may have the occasion or desire to attend a synagogue despite their inexperience.
The book begins with the most basic aspects of feeling comfortable in synagogue, such as how to dress, when to stand and when to sit, and handling a prayerbook. It goes on to discuss some material elements of Jewish worship, such as wearing a head covering during prayer, the organization of the sanctuary, and the significance of ritual objects like the mezzuzah and the Torah ark. Hebrew and Yiddish vocabulary is also provided, including both meaning and pronounciation, so the reader can be confident using the terms appropriately. The focus then turns to the prayer service, including an in-depth exploration of the major Jewish prayers to help the beginner take part, rather than just "follow along". An appendix of page numbering in the most popular prayerbooks for Friday night and Saturday morning services also helps worshippers to navigate the service.
Wagner's discussions are intended to appeal to the widest possible audience; accordingly, translations from the Hebrew liturgy are rendered with a delicate balance between traditional interpretations and modern sensibilities, and the author is conscious throughout to address the differences in custom between Orthodox, Conservative, and Reform congregations. The significance and history of each ritual, property, and prayer is explained in the hope that the reader will learn to both participate and appreciate the central Jewish experience of communal worship.
--- Jewish Book News
---
Arthur Kurzweil, Editor
The Jewish Book Club, March 27, 1997:
"The Synagogue Survival Kit, by Jordan Wagner, is the only book of its kind. It takes the reader step by step through the synagogue in a clear and highly informative way. Both regular synagogue-goers and newcomers will be enlightened by this remarkable book."
And on August 14, 1997:
"It is rare that a new book sells out its first printing as rapidly as has occurred with Jordan Lee Wagner's best-selling book, The Synagogue Survival Kit. The new laminated, hard-cover edition has just been released. We are happy to offer it, once again, as a Main Selection of The Jewish Book Club."

Paul Kaplan, reviewer
Library Journal, 2/15/97:
"Wagner has written a clear and easy-to-read guidebook on the Jewish synagogue experience for the Jewish or non-Jewish individual who would like some beginning lessons and insight into what goes on when Jews gather to pray in a congregation... Wagner's work has an open, enthusiatic, and warm-hearted approach... a good choice for most public libraries serving a diverse clientele."

The Newton Graphic (Newton MA) 3/13/97:
"Jordan Lee Wagner must be a friendly sort."

Borders Books:
"This engaging, informative guide to synagogue services provides the uninitiated with a detailed, thorough, and extremely useful roadmap to the liturgies, prayers, customs, and traditions encountered in Jewish communal worship. More than just a liturgical schematic, "The Synagogue Survival Kit" goes beyond the descriptive to the interpretive, yet does so with a sensitivity to the broad spectrum of Jewish perspectives and denominations that is certain to make this a staple of synagogue libraries everywhere."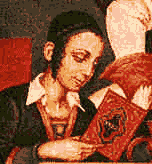 Click here to read additional reviews of the book.
Click Here for information on how to order "The Synagogue Survival Kit".
The book can be autographed or specially inscribed as you may direct.


Click here to go to the on-line Transliterated Siddur!